Elstow locos
Sole Dealer for ELSTOW ENGINEERING LOCOS
British Built
Parts Sourced in UK
Built in UK
Elstow Engineering – Sole Dealer
Loco-Boxes are now the sole dealer for Elstow Engineering products.
All parts will be sourced from Britain & the loco will be built here too!
All enquiries to 01223 864029 or Contact Us.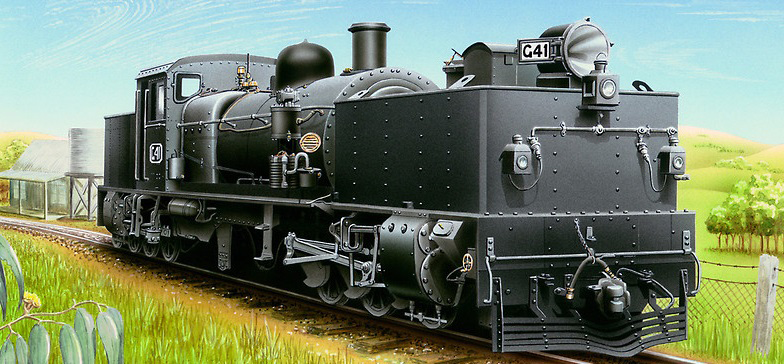 Image courtesy of Wizard Graphics, Australia
The new G42 Garratt from Elstow Engineering!! £5500
Built in 1926 and painted all-over black, this Garratt locomotive was first run on the Moe to Walhalla line, until the line closed in 1954. After an overhaul it was relocated to the Colac to Crowes line and remained there until that line closed in 1962. In 1964 it was sold to the Puffing Billy Preservation Society as a static display until 1986 which saw the commencement of restoration and had been undergoing rebuilding ever since in the Belgrave workshops until 2004 when it triumphantly returned to service, restored to its 1946 to 1954 condition and all-over black livery.
16mm scale specification;
1946 to 1954 condition, including raised cab roof, raised marker lamps & cow catchers.
With coal & gas firing options, it will feature an axle driven water pump, be available for either 32 or 45mm gauge, have radio control as standard & can be supplied numbered either G41 or G42.
This loco will be supplied with a Loco-Boxes box, fitted with a lifting cradle.
The new Darjeeling "A" class locomotive – £2350
The DHR 'A' Class steam locomotive used on the Darjeeling Himalayan Railway in West Bengal, India. It was the DHR's first standard design of locomotive. Originally designed and built by Sharp, Stewart & Co. in 1881. The second batch of locos were built the following year by the Hunslet Engine Company, under sub-contract by Sharp Stewart. In this time the design was modified and the locos were fitted with an additional saddle tank and coal bunker. The final two locomotives were built by Sharp, Stewart in 1883.
16mm Scale Specification:
Gas Fired
32 or 45mm Gauge
Various Numbers
315mm over buffers, 100mm wide & 157mm high
Option of coal bunker and saddle tank
Office Location
2 Bannold Box Cottages, Long Drove, Waterbeach, Cambridge CB25 9LP
Open Hours
09:00am - 5:00pm Monday to Thursday
& 09:00am - 2:00pm on Fridays
(closed on Bank Holidays)