How to Order
If you'd like to talk boxes, we're your people!
Payment
Cash
Debit or Credit Card
Bank Transfer
Please note that sadly, we no longer accept cheques, as the banks have now made it so difficult to use this type of payment.
Ordering
If you'd like to order one of our products, please send us an email, phone us or write to us at the address below with the details.
We'll need to know
For boxes, we'll need to know the internal length that you require & what internal height you need.
In 16mm/G scale for the internal height, you have 3 choices – 150mm, 170mm or 200mm. Boxes can be made to any length & all come in 150mm (internal) width.
Please let us know if you'd like a wheel holding strip & what gauge your loco is and also if you'd like stacking strips on the box too.
For Gauge 1, all boxes are 100mm wide & 150mm tall (internally) & all end opening boxes come fitted with a wheel holding strip for 45mm gauge. Stacking strips are also an option available for Gauge 1 boxes.
We are happy to quote for postage or next day courier delivery on request.
Next Day COURIER
Next Day Service
Signed For
Tracked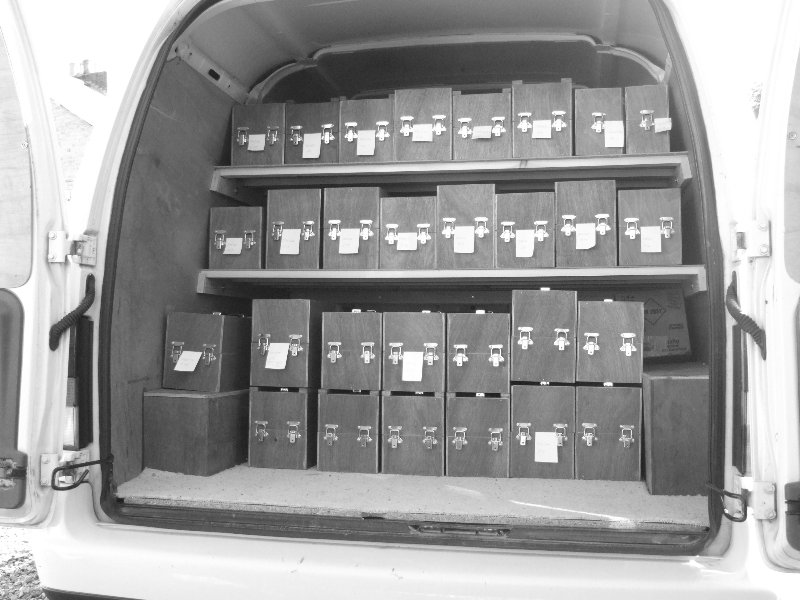 Delivery
We can send your new box or items to you or you can collect it from us at a show. We're regularly at shows in various parts of the country.
Please note that delivery times are still aimed to be 'Next working day', but due to the Coronavirus situation, can take a little longer at the moment. Please bear with the couriers, currently all the delivery companies have a lot to deliver.
If your delivery is to be posted, it'll be sent by signed for, next day courier. We will always use a reputable courier company, normally APC Couriers & never any of the more 'budget' carriers. Your item will always need to be signed for & never just left on your doorstep unless you request this in writing. We like to ensure that your item reaches you in perfect condition on the day it is supposed to arrive. Please note that Royal mail prices have increased so much over time, it's now cheaper to use a reputable, next day courier company.
The items should arrive next day & in the event of a mishap (of which we've never had any problems ), the item is trackable & also insured. As all deliveries are signed for, we (& you) also know that they've been recieved by the correct person.
All items that are sent by post are bubble wrapped to ensure they don't get damaged.
Please note that we no longer dispatch items to addresses outside mainland Britain.
Office Location
2 Bannold Box Cottages, Long Drove, Waterbeach, Cambridge CB25 9LP
Open Hours
09:00am – 5:00pm Monday to Thursday
& 09:00am – 2:00pm on Fridays
(closed on Bank Holidays)